How to create an Email account at cPanel?
---
Almost all of our web hosting packages includes cPanel based default email system, which includes three user interfaces namely Roundcube, Horde and SquirrelMail. When you sign up for Net Craft India hosting services you will get cPanel details to administer your hosting account and with this details you can create numbers of email accounts as per your selected plan.
If you bought an "exampledomain.com" you can create profession email with your domain like "website@exampledomain.com", "sales@exampledomain.com", "hr@exampledomain.com" and many more like these. Anytime you need a new email id you need to log into your cPanel.
If you are using Business Email Services you should contact our support or your personal contact person.
Creating an Email account in cPanel
First of all you need your cPanel hosting details to log into your hosting control panel, so please gather your details first.
Step 1: Login to your cPanel
Step 2: At home page of your cPanel find "Email Account", click on it to move further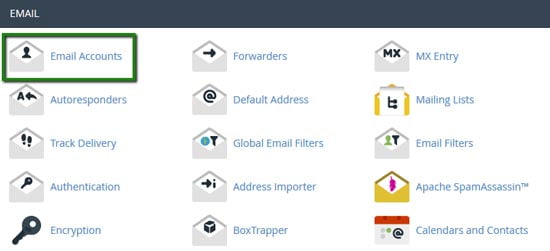 Step 3: You will see following section at your control panel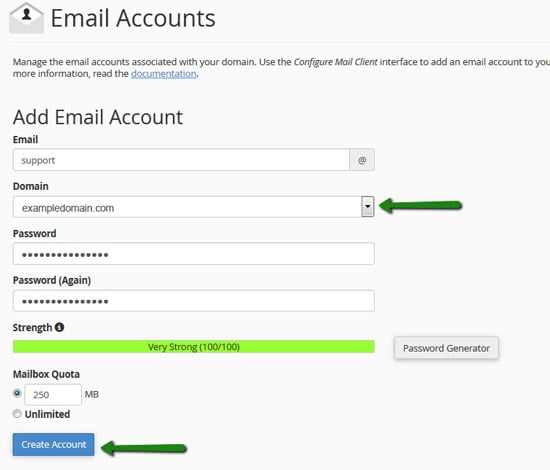 Fill Email: with the name of the account you want to create, now If you are using multiple domain, just select the domain name you want to create a email at with clicking on the dropdown list. Fill Password: section with desired password for the email account than re-type the password. Please be sure you do correctly enter the password in both field. Now chose mail quota, you can specify email quota by filling the section with desired number or just select the unlimited button to give un-metered space.
Once you are sure you filled all fields with desired inputs you should click on "Create Account".
Step 4: Once your email created, you can find your email account listed at the Email Account section.